updated 7-9-22
Rough Collie puppies
available
right now!!

AKC Pets Limited registration $950 each. Show prospects and breeding registration available. Please see the Collie Puppies Now page for full details.


Knight Sunny Patch
Littermates:







​
​Tira Laddie Laddie Tundra
"Home of Tundra the blue eyed pinto Collie"
Please see the Reserved Collie Puppy page for last year's puppy pictures.
Please see the Collie Puppies Now page for AKC Limited pet and Full breeding registration prices.Ranch Pyrs and Anatolian Shepherds/Turkish Kangal puppies are planned for 2022​ Please see the Ranch Pyr Puppy page for details.
​

​​All of our 2021 puppies have gone home. We are accepting Advanced Deposits of $80 for puppies in 2022.
​We are planning on Rough and Smooth Collies and Ranch Pyr/Colorado Mountain dog puppies.​​

I have retired from the Doberman breed and I am continuing with the Pyrs and Collies. At this stage in life we need dogs that can comfortably stay outside for longer periods of time than a Doberman can. If you are looking for an inside/outside guard dog- both Collies and Pyrs can do the job! Both will announce (bark at) strangers/threats/predators and they will actually protect and lay down their life for farm and family when really necessary. However they can not be trained to attack "on command" like a Doberman. Dobermans often just make you feel safer because your average visitor recognizes the breed and it's reputation. Pyrs are rarely recognized by "non-ranchers" but very few strangers will approach a "small polar bear" ! Many of my Pyrs have already become wonderful house pet watch dogs and they will babysit children just like the Lassies are famous for. And of course, many more are doing wonderful work on farms and ranches.
​


​The founder of the Colorado Mountain Dogs has invited our Ranch Pyr bloodline to help with their development !!
​All future Ranch Pyr litters qualify to help the Colorado Mountain Dogs.
​Please see
Colorado Mountain Dog.com
or
American Rare Breed Association
(www.arba.org) for CMD information.
​
​
Our Collies are now AKC Bred With Heart certified!!
​Please visit the American Kennel Club's website to learn more about the Bred With Heart program.
​A commitment to health testing and education for the future of these unique and wonderful dog breeds.
​Favorite Pet Companies page
with links to sources of dog equipment I use; including my favorite collars, dog coats, diets.
Personality comes first in of my dogs. Herding, ranch and family security dogs with original working instincts and sound minds and bodies are my goal. I select for temperament and disposition first, then original working instincts, health and conformation per AKC/UKC breed standards. I strive to retain original herding, working and guarding instincts weather they will be used or not. I personally believe a dog without them is some how incomplete. I sought out foundation stock to protect my family and work on my ranch and it was well worth it! I expect all of my puppies to be able to provide family, home and ranch security.
I have tried to include a lot of info on this website since so many of my puppies go to first time owners of my favorite breeds. If you have a question that this website doesn't answer feel free to ask, regardless of where you found your canine friend. The breed pages includes the latest puppies, litters, show results, etc. .
The
Contact & Deposits page
has my contact information and a list of some of the questions I might ask you. It also has a BuyNow link for deposits and payments.
An Advanced Deposit will secure your place in line to pick a puppy before it is born.
Advanced Deposits are non refundable as they can greatly influence my future puppy plans.
Advanced Deposits are subtracted from
the purchase price.
Please see the Puppies Now pages for deposit information on puppies that have already been born.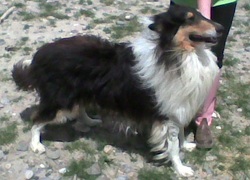 Conner, fondly remembered.
​Visitor Policy: To protect the dogs and puppies from diseases that have no vaccine and dog nappers - we have had to stop inviting people to the ranch. The current Canine Flu outbreak is just one of many concerns that may be on shoes or car tires. I know where my vehicles and I have been. No offense but I don't know what is on the ground from your area. And of course contagions are microscopic. 6 times my puppies have been stolen from their new homes! Please be careful with your new puppy! Consider staying outside with your puppy if it is young enough to be stolen.

​1. A blue merle Sheltie that went to Riverton, WY years ago was stolen from the fenced yard twice by neighborhood children and recovered upon a walk through the area. When the family moved out of town the dog disappeared from the fenced yard and was never found.
​2. A Pyr puppy went to Casper, WY. The same day the family called asking for help because the puppy had disappeared from their fenced yard the first time they put her out to go to the bathroom. The family went back in the house and left her alone outside for
"5 minutes". The following year when a Pyr puppy went to Casper the woman told me that the year before a "shady" character was walking up and down the streets trying to sell a puppy just like hers for quick cash!
​3. A smooth sable Collie that went to Wheatland, WY was barking in the fenced back yard one day. Then she yelped. The owner went out to see what
had happened and found no dog, but there was a white van driving away down the alley. The next day the owner put it together when neighbors told
her that 4 other dogs had disappeared from their fenced back yards along the same alley!
​4. A litter of puppies was reported stolen from a local yard last year while the family was at work.
​5. A Wyoming school bus driver mentioned that 4 of her students on the same street had lost their dogs from fenced yards "yesterday". Driving the route
​ that afternoon she noticed a car with a driver that appeared to be watching a border collie in someone's front fenced yard. I have not heard if that
​ border collie or that car have been seen since.
---
Grain Free diets = Heart Failure Risk?
Update !!! A study has now been released regarding the grain free diet link and heart problems. Unfortunately it creates more questions than answers. The one clear thing that it indicated is that dry kibble dog food diets with a lot of peas, lentils and to some degree potatoes have the most heart problems reported. I can only invite you to search the internet for "canine dcm diet study/report" to read the report and the educated opinions of the information. Alert !! The FDA and AKC are now issuing warnings: Commercial/store bought "Grain Free" diets are highly suspect in causing MANY dog breeds and mixes to have an increase of heart failure, dilated cardiomyopathy and taurine deficiency- even in breeds that have never reported such heart failure before!!
I give my dogs a raw chicken liver (taurine source) and a sardine canned in tomato sauce without spices (anti inflammatory, heart healthy food) every day. About 1/4 of my dogs diet is my own hen's eggs, various raw meats and organs, yogurt, cheeses, fish and raw meaty bones from a local butcher. I have always fed a rotating or mixed variety of quality grain inclusive dry dog foods and their protein sources. Usually from smaller pet food companies like Loyall/Nutrena, Tuffy Gold/Ranchway, Nutrisource (with grain),Victor (with grain) etc sold in ranch stores as opposed to big manufacturers in the grocery/department stores. So far so good !! No sickness from the massive pet food recalls of recent years. No heart symtoms even in my older Dobermans.